What is the ACORN controversy about?
Here are the basics about ACORN and about the videos that have put the organization in hot water.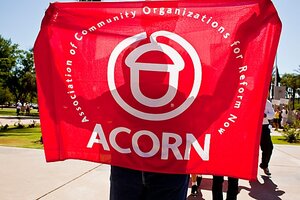 Newscom / File
The Association of Community Organizations for Reform Now (ACORN) is once again at the center of controversy. This time the group is in hot water over videos that show employees telling two conservative activists masquerading as a pimp and prostitute how to trick federal tax authorities.
ACORN says the videos are part of a "multiyear political assault" on the organization, which conservatives say uses tax dollars to advance a liberal agenda. But the organization also says it is "deeply disturbed" by the videos and has launched its own review of employee procedures and training.
Meanwhile, Republican lawmakers are using the videos as evidence for why the federal government should cut off all funding to the organization, which helps low- and moderate-income people gain access to mortgages.
On Monday, senators overwhelmingly voted to keep the Department of Housing and Urban Development (HUD) from issuing grants to ACORN. On Wednesday, Sen. Richard Shelby (R) of Alabama asked for a full-blown investigation of the group.
But how did an organization that largely concerns itself with matters of America's poorest find itself, once again, in the sights of both lawmakers and talk-show hosts? Following are some basics about ACORN and the recent controversy.
What is ACORN?
According to the group's website, ACORN is a collection of grass-roots organizations that serve as an advocate for the poor. It began in the 1970s and now has about 1,200 chapters. It is "committed to social and economic justice" and has worked to raise the minimum wage, end predatroy lending practices, and develop affordable housing.
---