WWE CEO Linda McMahon to lay political smackdown on Chris Dodd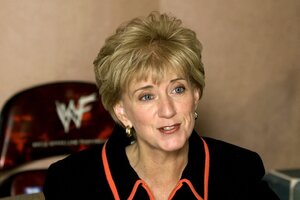 DOUGLAS HEALEY/AP/FILE
Linda McMahon, best known as CEO of World Wrestling Entertainment (yep, that's WWE, home to over-muscled "wrestlers" hurling folding chairs at each other), is leaving her post to challenge Sen. Chris Dodd (D) of Connecticut for the US Senate seat he's held for five terms.
"I am 100 percent serious about this race," she said Wednesday of her bid for the Republican nomination.
But "serious" is not a word often associated with the WWE, known for its melodramatic storylines and faux wrestling moves. Mrs. McMahon, the wife of Vince McMahon, WWE's public bossman and ringmaster, says she was largely the behind-the-scenes brains of the company, which she points out has grown from 13 to 300 employees under her watch.
Still, she'll have to contend with YouTube videos which argue the contrary.
How many politicians do you know that were "tombstoned" (translation: dropped on their heads) by a giant bald man in full-body spandex – albeit while wearing a pantsuit?
Ok, maybe more than you'd think.
---