Healthcare mandates: Are they a tax or not?
A tax expert says Obama's plan could cost some families more money. Whether that is a tax is largely a matter of semantics.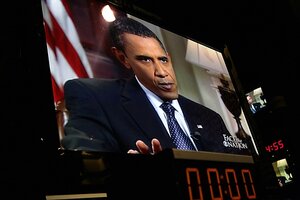 Karin Cooper/CBS Face the Nation/AP
The debate over healthcare reform is now also a debate over what the meaning of "tax" is.
Opponents of President Obama and congressional Democrats say that a mandate for Americans to buy insurance – or else pay a penalty to the government – would amount to a new tax on much of the middle class.
The semantic debate has gathered steam since Sunday, when Mr. Obama tried to deflect a dictionary-wielding TV anchor on the subject.
"For us to say that you've got to take a responsibility to get health insurance is absolutely not a tax increase," Obama told ABC's George Stephanopoulos.
But even if one calls this "responsibility" a "mandate," rather than a tax, the penalties for families that don't comply would be owed to the Internal Revenue Service. Some experts say that portion, at least, qualifies as a tax.
Conservatives circle the wagons
At any rate, Obama's verbal efforts have only served as fuel for conservative critics.
Fox News host Bill O'Reilly went so far as to bring on an expert at parsing body language.
"That's when the finger – yes, that's when the finger stops being aggressively pointed," Tonya Reiman told Mr. O'Reilly as they replayed tape of Obama on ABC.
"A tax by any other name still leaves a hole in the wallet," blogger Bobby Eberle wrote on GOPUSA Tuesday.
The tax debate raises challenges for the White House on two fronts:
---