UN global warming summit: US, China send strong signals
At Tuesday's UN meeting, Presidents Obama and Hu set down markers for what they expect to achieve at the December climate change summit in Copenhagen.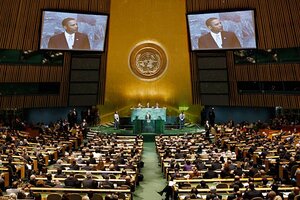 Mike Segar/Reuters
Tuesday's one-day UN summit on global warming provided a bully pulpit for key political leaders to lay out their hopes and requirements for a new global warming pact to replace or augment the 1997 Kyoto Protocol.
Leaders from the headliners – the US and China – sent clear, strong verbals signals that they see global warming as a serious problem and are setting out ambitious programs to deal with it in the run-up to global climate talks scheduled for Copenhagen in December.
President Obama cited a list of accomplishments his administration has achieved even as Congress works its way through an overarching energy and climate bill.
"Taken together, these represent an historic recognition on behalf of the American people and their government. We understand the gravity of the climate threat," Mr. Obama said.
He also acknowledged that developed countries, whose factories, power plants, and transportation systems historically have been the largest emitters of heat-trapping greenhouse-gases, "still have a responsibility to lead."
But he pointedly added that developing countries with the highest economic growth rates – including China and India – will be responsible for the largest future increases in emissions.
---