A global warming summit of good intentions
UN officials say it gave fresh momentum to upcoming talks for a new climate change treaty. But many unresolved issues remain.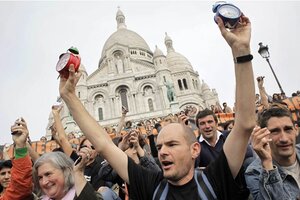 Thibault Camus/AP
Tuesday's UN summit on global warming ended with assertions from United Nations officials and several heads of state that the meeting injected fresh political momentum into negotiations for a new global-warming treaty, which begin in earnest in less than three months.
But the road to some form of agreement in Copenhagen, Denmark, this December remains boulder-strewn.
Noting that Tuesday's meeting was "a step in the right direction," Danish Prime Minister Lars Loekke Rasmussen added that "we're still far from a solution" to several vexing issues, including questions of how to help poor countries pay for the green technologies they will need to raise their standards of living without pouring more heat-trapping greenhouse gases into the atmosphere.
Still, after Tuesday morning's speeches and the afternoon's closed-door sessions, UN Secretary-General Ban Ki-moon said during a post-summit press conference that he noted "a thaw in several frozen positions."
For instance, Japan's new Prime Minister Yukio Hatoyama told some 100 heads of state gathered for the meeting that his country would agree to reduce its greenhouse-gas emissions by 25 percent below 1990 levels by 2020, as long as there is "agreement on ambitious targets by all the major economies." His predecessor had proposed only an 8 percent cut below 1990 levels.
China announced its intention to cut the amount of carbon dioxide it emits for each unit of gross domestic product during its next five-year planning period, which begins in 2011. But it gave no number.
---