Health reform has a new messenger: Biden
With Obama tied up at the UN, Vice President Biden is out front on health reform. On Wednesday, he reassured seniors in suburban Maryland about their Medicare coverage.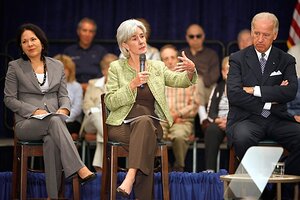 Jacquelyn Martin/AP
"I do foreign policy, I don't do healthcare," Vice President Biden told an audience at the Brookings Institution earlier this month.
But it turns out Mr. Biden does do healthcare – especially in a week where President Obama is out front on foreign policy. With the health reform debate building as the Senate Finance Committee hammers out its bill, the White House appears determined to pound home its message on a daily basis. Biden also reportedly plans to get more involved in engaging his former Senate colleagues, both Democratic and Republican, on the issue.
On Wednesday, the White House dispatched Biden to Leisure World, a suburban Maryland retirement community, to reassure seniors about their Medicare coverage.
"Nobody is going to mess with your benefits," said Biden, who was joined by Health and Human Services Secretary Kathleen Sebelius and White House health adviser Nancy-Ann DeParle. "All we do is make it better for people on Medicare."
---