G20 summit wraps up with some success – for nations and Obama
But world leaders couldn't agree on exit strategy for massive fiscal stimulus. And there was no solid commitment on climate change.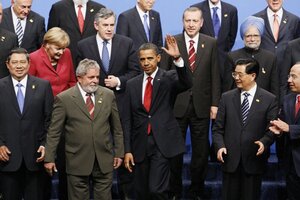 Charles Dharapak/AP
President Obama, with a tired smile, declared his first job of hosting a G20 summit a success, an opportunity to lay the groundwork "for longer term prosperity."
The main achievement of the global event was the institutionalization of the G20 as the new economic forum for world leaders to provide tighter coordination of their economic policies and an effort to keep imbalances from taking place. The world leaders also agreed to keep their stimulus activities going until their economies recover. And, they agreed to tighter supervision of the financial community.
"Here in Pittsburgh we have taken steps to secure a strong sustainable balanced growth," said Obama in a statement before a press conference immediately after the G20 ended.
But, the world leaders were unable to agree on an exit strategy for their massive fiscal stimulus. And, they disappointed some environmental groups who were hoping for some concrete commitment of money to help developing countries pay for shifting from fossil fuels.
Obama himself admitted there was still work to be done. "Too many Americans are out of work," he said.
Some outside observers felt the Summit was a success because it expanded the number of nations participating in the economic talks. "It brought together the old world and the new world," says Andrew Cooper, a distinguished fellow at the Centre for International Governance Innovation in Waterloo, Ontario.
He says it also showed the nations could work together with compromises. For example, China got some IMF reform that will give it a greater voice in the institution. In return, he says, China agreed to increase its domestic consumption without having fingers pointed at it for its trade imbalances.
---