Obama faces critical decision on how to proceed in Afghanistan
There's debate within his own administration over sending more troops to Afghanistan at a time when casualties mount and many Americans grow weary of the war.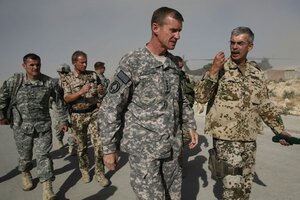 Anja Niedringhaus/AP
The United States -- and in particular the Obama administration -- is at a critical point in deciding how to proceed with the eight-year war in Afghanistan.
Public opinion polls show waning support for the war, generally tied to two things: Evidence of corruption in Afghanistan's recent election, and especially American military casualties there. Five more US troops were killed on Thursday and Friday, bringing total casualties to 36 this month and 218 for the year.
Meanwhile, senior military officials are pondering Gen. Stanley McChrystal's expected request for an additional 40,000 troops, which would bring the total number of US troops there to about 105,000. (In addition, some 38,000 allied troops are in the country.)
General McChrystal, the top American commander in Afghanistan, met in Germany Friday with Joint Chiefs of Staff Adm. Mike Mullen and other senior officers including Gen. David H. Petraeus, chief of U.S. Central Command, and Adm. James Stavridis, the supreme allied commander for NATO.
---