For Alan Grayson, a liberal rebel, 'die quickly' was tame
Rep. Alan Grayson said the Republican healthcare plan was for sick people to 'die quickly.' He is bringing a new style of raw confrontation to Congress.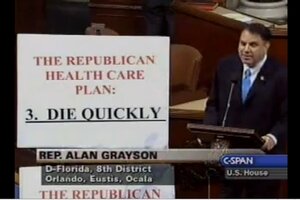 YOUTUBE screenshot
America, meet Alan Grayson.
To the vast majority of Americans, Rep. Alan Grayson (D) of Florida is the representative who told members of Congress late Tuesday night that the Republicans' health care plan was for sick Americans to die quickly.
Accompanied by a billboard adorned with the same message, he said this precisely: "If you get sick America, the Republican health care plan is this: Die quickly."
What is perhaps most surprising is that it took him this long to get America's attention.
Bringing the blogosphere to Capitol Hill
The New Republic describes the freshman congressman – who is considered one of the most vulnerable Democrats in the House – as "the first member to bring the blogosphere's in-your-face style to Capitol Hill."
When his hometown paper, the Orlando Sentinel, suggested that "some say" his style "may quickly rub his new colleagues the wrong way." He responded in a fundraising e-mail: "Well, 'some say' that the Sentinel is a trashy tabloid that dresses up bias and gossip as news."
---
Follow Stories Like This
Get the Monitor stories you care about delivered to your inbox.