Klamath River dam-removal project will be world's biggest
Wednesday's agreement to tear down four Klamath River dams took years to reach. But it's a costly project, and there may be more conflicts ahead.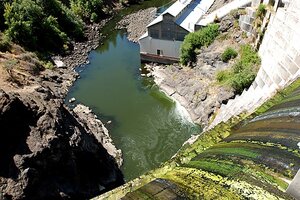 Jeff Barnard/AP
Many environmental groups greeted Wednesday's draft agreement to tear down four dams and restore the Klamath River along the California-Oregon border with a healthy degree of skepticism.
The decision to remove the hydroelectric dams that are operated by PacifiCorp comes after years of growing pressure on one of the largest Western utilities to address a raft of environmental issues – namely blocking salmon and steelhead runs but also the creation of toxic algae.
In total, 28 parties including PacifiCorp, California, Oregon, American Indian tribes, federal agencies, and conservation groups signed onto the draft that would bring the dams down in 2020 and amount to a river restoration project of historic proportion.
"When the Klamath dams come down it will be the biggest dam removal project the world has ever seen. It is exciting to see the momentum behind this historic river restoration effort – one that promises to not only restore the health of the river, but also boost local economies and revitalize communities," said Steve Rothert, California director for the environmental group American Rivers, made in a statement.
Words of caution
But while many stakeholders greeted the decision with praise, others offered much caution.
---