Schwarzenegger leads governors' summit on global warming
California Gov. Arnold Schwarzenegger is touting efforts to reduce greenhouse gases by states and provinces worldwide ahead of the Dec. 6 UN climate change summit in Copenhagen.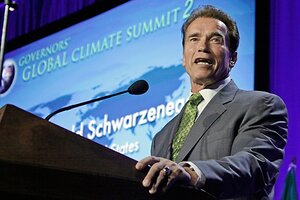 Reed Saxon/AP
Some 1,200 representatives from more than 70 states, provinces, and countries are meeting here this week for California Gov. Arnold Schwarzenegger's Global Climate Summit 2.
Three years after Governor Schwarzenegger won global attention for signing legislation committing the world's eighth largest economy to reduce its greenhouse gases 25 percent by 2020, the gathering is trying to pave the way for a United Nations conference in Copenhagen, Demark, in December to establish new, worldwide emissions targets.
The goal is to provide leaders below the national level the opportunity to influence the position of their national governments in advance of the Copenhagen summit.
Experts estimate that 50 to 80 percent of actions needed to reach the UN climate goals will be implemented at the state and local levels.
Participants are engaging in 21 panels featuring discussions on energy efficiency, low-carbon fuels, green buildings, clean technology, job creation, water management, deforestation, sustainable development, training opportunities, and adaptation strategies.
Interviews with key attendees show that California's example continues to pave the way. As one of the world's largest economies, California has key economic and environmental interest in the progress and design of any international agreement to reduce greenhouse-gas emissions.
---