Students' Obama song: Is there a better way to teach civics?
The controversy over New Jersey students singing about the president raises the issue of how schools should talk about contemporary politics in the classroom - including the first African-American president.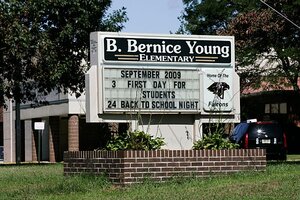 Mel Evans/AP
A video of New Jersey elementary schoolchildren singing a song praising President Obama has sparked an uproar in conservative circles, with critics charging indoctrination – an echo of similar charges earlier this month when Mr. Obama spoke to schoolchildren in a nationally broadcast address.
In the song, originally written by a second-grade teacher and her class in recognition of Black History Month in February, students rap and pay tribute to Obama's accomplishments.
The video has stirred up the conservative blogosphere, and people across the political spectrum agree that the song may be an error of judgment on the teacher's part. But more broadly, it raises questions about the place of politics in the classroom and how schools and teachers can discuss Obama's presidency – and perhaps recognize its historic nature – in appropriate ways.
"The biggest thing that worries me is that we'll make our schools into politics-free zones where you can't talk about anything that might offend anyone," says Peter Levine, director of the Center for Information & Research on Civil Learning & Engagement at Tufts University in Medford, Mass.
Already, notes Professor Levine, far fewer kids take courses devoted to current events than did several decades ago. "I think we've squeezed most of the controversy out, which is bad for kids' civic development."
---
Follow Stories Like This
Get the Monitor stories you care about delivered to your inbox.