The Bidens, and six other political dynasties in the making
Beau Biden, son of Vice President Joe Biden, returned from Iraq Wednesday. He's tipped to run for the US Senate. Several other political families also have members eyeing 2010.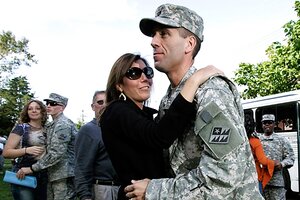 Mel Evans/AP
Vice President Joe Biden's son, Beau, returned home from a year in Iraq with his National Guard unit Wednesday to renewed speculation that he will seek the Senate seat his father held.
If he enters the race, he wouldn't be the only prospect for extending a political dynasty on Capitol Hill or in statehouses these days.
The lines of succession may not be as centrally planned as the strategy Joseph Kennedy worked out for his three sons who served in the US Senate and won or sought the presidency. Not all members of political families are even on good speaking terms. Moreover, the family name that's a plus for some voters can be a stigma for others.
But name recognition goes a long way in politics, and every election cycle brings a crop of recycled names. Here are some of the most prominent in Campaign 2010:
• Nevada's Clark County Commissioner Rory Reid, son of Senate majority leader Harry Reid, has had a campaign manager on staff since May for a gubernatorial run in November 2010.
---