Sen. John Ensign scandal gets deeper with allegation of lobbying misdeeds
Did Senator Ensign violate a lobbying ban by helping a former staffer who's wife he had had an affair with? Ethics watchdogs think so.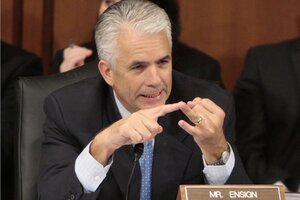 Pablo Martinez Monsivais/AP
Sen. John Ensign's Senate colleagues stood by him today, after a news report in the New York Times raised new questions of possible legal violations in how the Nevada senator wound down an affair with a campaign staffer.
At issue in today's report is whether the two-term Nevada senator helped former top aide Doug Hampton violate a one-year lobbying ban and then did favors for his clients.
Previous reports disclosed a $96,000 "severance payment" to the Hamptons and two of their children from Ensign's parents that ethic watchdogs say should have been publicly reported.
Senate Republican leader Mitch McConnell declined comment on today's report.
The Senate ethics panel does not comment on ongoing investigations, including whether a senator is being investigated. Senator Ensign's office did not return calls for comment.
But outside watchdog groups say that senators are undermining the credibility of their institution by dismissing breaches of ethics. Previous reports disclosed a severance payment of $96,000 to the Hampton family that ethics groups say should have been reported in campaign records.
---