Senate Democrats backpedal on health insurance mandate
Democrats on the Senate Finance Committee reduced penalties for those without health insurance, but not as much as Republicans want.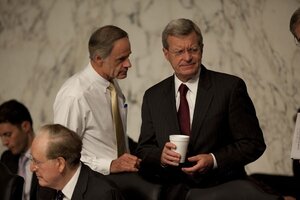 Evan Vucci/AP/File
In the closing hours of debate over health reform this week, Democrats on the Senate Finance Committee tacked away from what had been a lynchpin of their reform drive: universal coverage.
The push to cover all Americans in Democratic draft legislation on Capitol Hill rests on three legs: more affordable premiums, subsidies for low-income families, and penalties for individuals who do not purchase insurance.
But in recent weeks, focus groups and internal polls have signaled mounting public fears that even with reform, people will not be able to afford health insurance. Those who can't or won't meet new federal mandates face a year in jail, penalties up to $1,900 per family, and garnishment of wages.
In response, Democrats on Thursday reined in some of those penalties and mandates – but not on Republican amendments.
Idaho Sen. Michael Crapo's proposal to exempt families earning less than $250,000 a year from the bill's direct tax provisions, including the penalty for individuals who do not purchase health insurance, failed on a near party-line vote. All Democrats, with the exception of Sen. Blanche Lincoln of Arkansas, opposed the bill, 12-11.
---