Mike Castle to vie for Biden's Senate seat, maybe against Beau
GOP's Mike Castle of Delaware, nine-term congressman, puts Republicans in strong position to pick up a Senate seat in 2010, whether or not Beau Biden (D) enters the race.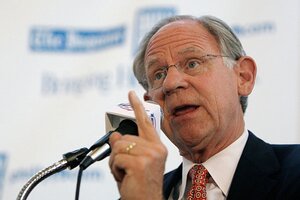 Matt Slocum/AP
Mike Castle is in. So what will Beau Biden do?
The announcement Tuesday by Congressman Castle (R) of Delaware that he's running for Vice President Joe Biden's old Senate seat potentially tees up one of the hottest races of the 2010 midterms.
With the Democrats controlling 60 seats in the Senate – giving them a filibuster-proof majority – they are loath to give the Republicans any quarter, especially with a seat the Democrats have held for decades. For the GOP, Castle is the only candidate who has a shot at taking that seat. If he joins the Senate, he would be a rare moderate Republican voice in an increasingly polarized body.
The vice president's son Beau, Delaware's elected attorney general, is expected to jump into the race as well. That would set up a generational battle – Beau Biden is 40, Castle is 70 – and a contest between two of the surest political brands in the state.
If Biden doesn't run, Castle becomes the clear favorite.
But even assuming Biden does jump in, one top political handicapper still calls the race "leaning Republican."
"Castle has been around a long time, he's well liked, he runs statewide," says analyst Stu Rothenberg. "Polls show him generally starting out a few points ahead."
Currently the state's sole member of the US House, Castle has been a household name across Delaware for decades. He has served nine terms in the House, two as governor, and one as lieutenant governor.
---