To restore jobs to the economy, what can Obama do?
Obama's team cites the stimulus bill for keeping people working, but with the US economy still shedding jobs, calls to do more are getter louder.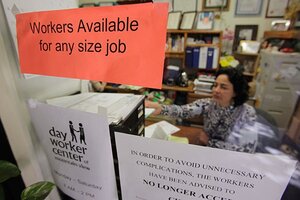 Paul Sakuma/AP
Worse-than-expected job losses are tough on US workers – and perhaps developing into a political problem for the White House and Democrats in Congress.
Republican critics say the dire employment situation calls into question President Obama's economic policies and shows why Americans shouldn't trust Democrats to reform the nation's healthcare structure.
But White House budget director Peter Orszag on Monday defended Mr. Obama's record, saying things would be far worse without actions such as the stimulus package passed by Congress in February. The administration will take further action if officials deem it necessary, said Mr. Orszag in an interview with the Associated Press.
"If the economy remains fragile, additional options will be considered," he said.
Right now, the jobless rate is 9.8 percent – about half a point higher than the administration expected, according to the budget chief. That is the highest such monthly rate in more than 25 years.
It's expected to get worse. Many economists predict unemployment will climb over the 10 percent threshold before it begins to improve.
Talk of "green shoots" abounds on Wall Street, and the stock market has been doing well. But high unemployment spreads misery at the US grass roots.
---