Five Republicans that want the GOP to back healthcare reform
President Obama has pressed Gov. Arnold Schwarzenegger and four other prominent Republicans to speak out in favor of healthcare reform. If they sway one GOP senator, the effort will have been worth it.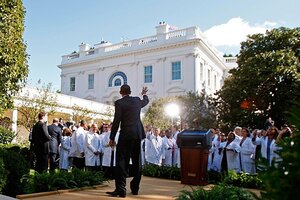 Jim Young/REUTERS
The list of high-profile, outside-the-beltway Republicans backing an overhaul of the healthcare system is raising eyebrows.
• California Gov. Arnold Schwarzenegger.
• New York Mayor Michael Bloomberg (technically an independent, but he's running for reelection on the Republican and Independence Party tickets).
• Bill Frist, the former GOP Senate majority leader and a physician whose family founded Hospital Corporation of America.
• Tommy Thompson, former secretary of Health and Human Services.
• Mark McClellan, former Medicare chief.
The White House freely acknowledges that it nudged most of these men – Frist came out on his own – toward making public statements. But just as freely, they did say what they said.
The wave of endorsements has already gotten through to one of its most important targets, Sen. Olympia Snowe (R) of Maine. She is the only Republican member of Congress potentially willing to vote for the Senate Finance Committee's version of reform.
---