What did GOP's bid to oust Charles Rangel accomplish?
The attempt to remove Charles Rangel from his seat as chairman of an influential House committee keeps allegations of bribery in the public eye.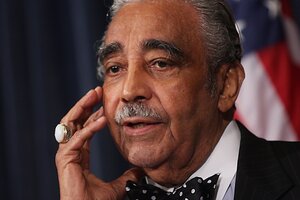 Lauren Victoria Burke / AP / File
Wednesday's Republican bid to oust Rep. Charles Rangel (D) of New York as chair of the powerful House Ways and Means Committee failed on a near party-line vote – and the outcome was never in doubt.
But in a highly polarized House, the significance of the move was not captured by the vote count. It was aimed to score political points by keeping corruption allegations against the majority party squarely in public sight – especially in the run-up to 2010 midterm elections.
"When the boss of the IRS, and the chairman of the House committee that controls the IRS, fail to pay their taxes and walk off without penalty, we have made a mockery of our tax system and the rule of law itself," said Rep. John Carter (R) of Texas, who sponsored the resolution. "Either this House repairs this damage, or the American people will have to replace this House."
At his own request, Chairman Rangel has been under investigation by the House ethics panel since Sept. 24, 2008, on allegations ranging from using a rent-controlled property in New York for a campaign office, trading favors for funds for the Charles B. Rangel Center at the City College of New York, and failing to report income on tax forms.
---