What would a Republican healthcare bill look like?
Democrats have chided Republicans for not offering their own healthcare ideas. But GOP attempts to turn the debate toward more incentives and fewer mandates have been rebuffed.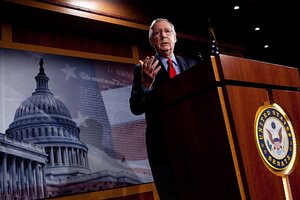 Evan Vucci/AP
There's no mystery about what Republicans don't like in healthcare plans winding through Congress.
In floor speeches for weeks, GOP leaders have slammed Democrats for trillion-dollar price tags, tax increases, Medicare cuts to seniors, expansion of government, and the exclusion of minority views, notably their own.
Democrats have disputed these claims, but also made a simpler response: Well, what's your plan?
This week, even GOP governors, their states battered by surging healthcare costs, joined the chorus. California Gov. Arnold Schwarzenegger Tuesday called on "colleagues on both sides of the political aisle" to move forward on reform. In an opinion piece Monday, Louisiana Gov. Bobby Jindal urged Republicans in Congress to "join the battle of ideas."
Perhaps they will. House majority leader Steny Hoyer (D) of Maryland and GOP whip Eric Cantor (R) of Virginia plan to meet Thursday to discuss possible areas of agreement. House GOP conservatives are meeting Wednesday with Health and Human Services Secretary Kathleen Sebelius on healthcare proposals.
---