Obama declares small victory in war on home foreclosures
Half a million at-risk homeowners now are less likely to default, thanks to HAMP, the Obama administration's foreclosure-relief program.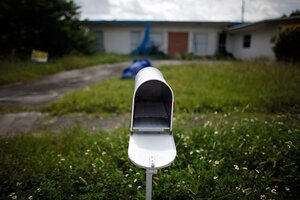 Carlos Barria / Reuters / File
The Obama administration announced Thursday that its foreclosure-relief program reached a key milestone sooner than expected.
Call it a small victory in what could be a long war on foreclosure. Federal policies are helping to ease strains in the US housing market, but the challenges remain formidable.
Consider Thursday's news: Half a million at-risk homeowners have had their mortgages modified since this spring, making them less likely to default, the Treasury Department said. That's ahead of target, since the agency's aim had been for the Home Affordable Modification Program (HAMP) to hit that mark by the beginning of November.
But in the year's second quarter alone, more than 500,000 homes went into foreclosure, and more than 4 million mortgages were 60 days or more delinquent in mortgage payments. By those measures, drawn from the Center for Responsible Lending, there's still a long way to go before the foreclosure wave recedes.
In releasing the HAMP progress report, the Obama team acknowledged as much.
---