Obama's Nobel Peace Prize raises stakes for agenda
Obama's Nobel Peace Prize comes as the president faces a crucial decision on increasing troop levels in Afghanistan. Obama said Friday he accepts the award as a 'call to action.'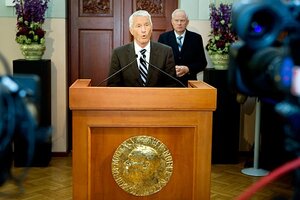 Jon-Michael Josefsen, Scanpix/AP
Barack Obama's Nobel Peace Prize, announced Friday to widespread surprise, raises the stakes on virtually every aspect of the president's agenda.
On foreign policy, Mr. Obama now faces heightened expectations first and foremost on the war in Afghanistan, where he sits at a critical juncture in his decisionmaking on US strategy and troop strength. The timing of the award's announcement is ironic: Friday afternoon, Obama holds the latest meeting of his national security team on Afghanistan, and it's possible the issue of troop strength will be discussed for the first time. Ultimately, Obama may well decide to add troops to the effort, after having already escalated US presence there this year.
Other areas of unfinished business in the foreign arena include the promised closure of the Guantánamo Bay prison camp, Middle East peace, Iran's nuclear ambitions, and the Iraq war. In all of these areas, the question will be whether Obama's Nobel Prize affects his own perceptions of how he needs to proceed, as well as how he is judged by others.
---