Senate in the home stretch on its healthcare reform bill
But there's more heavy political lifting ahead. Liberals in the House are set to fight for a public option.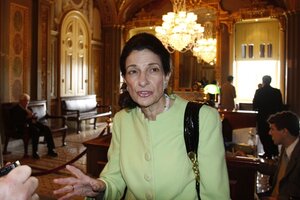 Harry Hamburg/AP
An intense, final push is on for a version of healthcare reform to take to the floor of the Senate.
The outcome of next Tuesday's vote by the Senate Finance Committee -- the last of five congressional panels to complete work on healthcare legislation -- is not in doubt. With a three-member majority on the panel, Democrats are sure to vote out the only committee bill to date that meets President Obama's pledge to reform the system without "adding a dime" to the federal deficit.
The key unknown is whether Sen. Olympia Snowe (R) of Maine will join Democrats in that vote. On Thursday, Healthcare for America Now launched television ads in Maine calling on Sens. Snowe and Susan Collins (R) to "side with the people of Maine and not the private health insurance industry."
"She is still reviewing everything and trying to make a determination," says Snowe spokesman John Gentzel.
Meanwhile, Democrats this week made prominent, 11th-hour overtures to Republicans to work with them to pass a bill. Secretary of Health and Human Services Kathleen Sebelius met with House GOP conservatives on Wednesday. House majority leader Steny Hoyer met with Republican whip Eric Cantor on Thursday. And Democrats kept up overtures to Senator Snowe.
---