Obama pushes gay rights, but not without criticism from activists
Many gay rights activists think Obama isn't doing enough. But he's in no rush on same-sex marriage or the military's 'don't ask, don't tell' policy.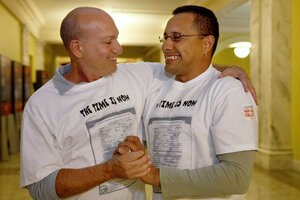 Jacquelyn Martin/AP
In last year's presidential election, Barack Obama won 70 percent of the gay vote, John McCain just 27 percent.
Does that kind of clearly dominant constituency -- one that's more politically-attuned than the rest of the electorate -- come with any political obligation regarding gay rights? You bet it does, and this weekend Obama is acknowledging the debt.
On the eve of Sunday's National Equality March, expected to draw thousands to Washington, he's addressing the Human Rights Campaign, a national gay rights group.
So far, his is a mixed record.
While Obama remains opposed to marriage among same-sex couples, in June he extended some benefits to the same-sex partners of federal employees. And he has taken steps to include among his administration openly gay officials.
---