Olympia Snowe's healthcare vote: unabashedly independent
Olympia Snowe was the only Republican to vote Tuesday for the Senate Finance Committee's healthcare bill. This is not the first time she has broken with her party.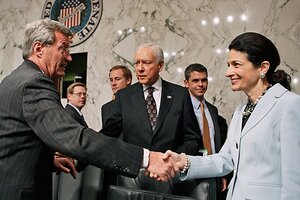 Charles Dharapak / AP
Olympia Snowe is a meticulous and independent lawmaker whose Senate votes have seldom been driven by party ideology. In that sense, the Republican's "yea" on the healthcare vote in the Senate Finance Committee is of a piece with the rest of her career.
Consider, for instance, the role Senator Snowe played during the Senate's politically-charged 1999 impeachment trial of President Clinton. She and her fellow GOP Senator from Maine, Susan Collins, pushed a motion that would have allowed the Senate to vote separately on the charges against Clinton, and the remedy to be taken in light of those charges. Such a move would have allowed lawmakers to both find him guilty and leave him in office.
When that motion did not pass, Snowe voted to aquit Mr. Clinton on the grounds that his offense did not warrant his removal from presidential office.
In 2005, she and Collins joined the so-called Gang of 14, a group of senators that helped mediate a bitter partisan dispute over President George W. Bush's judicial nominations.
Shaped by early adversity
Snowe, born Olympia Bouchles, had a difficult early life. She was orphaned at age nine when her mother and father died within months of each other.
She was raised in Auburn, Maine, by an uncle who was a textile worker. Her uncle, too, died prematurely.
---