On New Orleans visit, Obama makes time for gumbo
President Obama's visit to New Orleans Thursday lasts barely four hours, and includes a stop for some soul food at the famed Dooky Chase.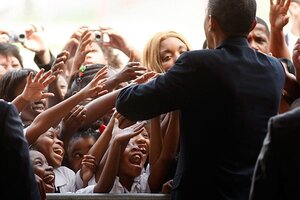 Gerald Herbert/AP
Leah Chase, a matron of New Orleans cuisine, thinks President Obama is looking too skinny. Despite those midday burger runs, all that basketball and pondering of the geopolitical tides burn up a lot of calories.
So, nothing like a visit to New Orleans to put some meat on dem presidential bones.
Ms. Chase, one of the most beloved chefs in a city that loves chefs, has served Mr. Obama gumbo before. Though no lunch plans were originally included in a trip Thursday that some New Orleanians have criticized for being too short, the White House has now changed that. As a result, the president will take in some gumbo and fried chicken from Dooky Chase, the name of both Ms. Chase's restaurant and her husband.
(White House social secretary Desiree Glapion Rogers, New Orleans-born and a two-time Zulu Queen, greased the wheels for the quickie take-out order.)
"I know he likes gumbo, so there will be gumbo; I know he likes shrimp Creole, so there will be shrimp Creole; I know he likes fried chicken, so there will be chicken," Chase told the Times-Picayune.
---