Do seniors on Social Security deserve that raise next year?
Elected officials seem eager to raise Social Security payments for seniors, even though inflation has been flat. It could lead to larger costs in the future, some analysts warn.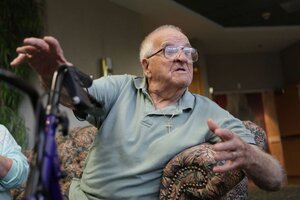 J Pat Carter/AP
US seniors will be able to buy more with their Social Security checks this year, even though they won't be getting extra cash via a cost of living adjustment (COLA), according to some analysts.
That is because the price of goods and services in America has fallen significantly since the period on which the last Social Security benefit increase was based. In addition, for most Social Security recipients, Medicare Part B premiums – which are deducted from their government checks – will be frozen.
The bottom line? The purchasing power of a typical retiree will jump by about $725 next year, according to Andrew Biggs, a former deputy commissioner of Social Security.
That calls into question the necessity of Congress voting seniors a one-time $250 payment, as President Obama has proposed, writes Mr. Biggs, now a scholar at the American Enterprise Institute, in a new analysis.
"An ad hoc COLA payment is unnecessary and could lead to larger costs down the road," writes Biggs.
This week Social Security officially announced that there will be no inflation-related increase in benefits in 2010. The COLA freeze is the first since automatic Social Security cost-of-living increases were adopted in 1975.
Washington is already jostling to run to the rescue of seniors dismayed at this news. There are at least five bills before Congress to bolster senior incomes in 2010 or beyond. Now that Mr. Obama has weighed in with his own proposal, it's likely that seniors will get some kind of bonus check in next year's mail.
Seniors struggling to balance their budgets surely feel such an increase would be warranted. And Social Security alone is not a stipend that supports them in luxury.
---