Balloon boy story may be a lot of hot air
Richard Heene wanted his own reality TV show, and the balloon boy story seems to have given it to him. Now, we're all actors in this pathetic drama.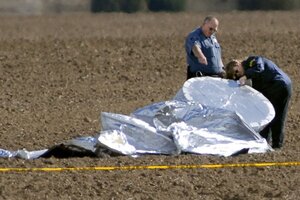 Richard Hackett/Longmont Times/AP
UPDATED 10:48 p.m. The Larimer County, Colorado, Sheriff's department reports that it is preparing charges to be filed in the case involving a boy and a helium balloon. "We do anticipate … there will be some criminal charges filed in respect to this incident," Sheriff Jim Alderden said at a news conference Saturday. There had been growing speculation that the episode was a hoax or a stunt.
--------------------
Life imitating art imitating ... oh, forget it. Besides, "art" in this case would have to mean "reality TV" -- that cultural phenomenon that by definition is as phony as the headline on a supermarket tabloid.
And so the story of "balloon boy" keeps drifting over public consciousness like that silver puffy mushroom-shaped gas bag, degenerating into a debate over whether it was a hoax or merely a stunt carried out -- to be charitable -- by a "different" family given to chasing hurricanes, posting YouTube videos of their little boys rapping, and building flying contraptions in the backyard of their suburban Colorado home. And, of course, trying to get their own reality TV show.
Now, we learn, the Heene family saga in fact was a hoax. At least according to an anonymous "student" who claims to have worked with Richard Heene.
---