Sheriff Joe Arpaio: I don't take orders from anybody.
Refusal by 'America's toughest sheriff' to stop immigration sweeps fits into the career of a controversial populist.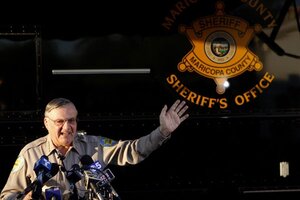 Joshua Lott/REUTERS
Much like the late Jefferson Parish, La., Sheriff Harry Lee did, Maricopa, Ariz., Sheriff Joe Arpaio walks the line between all-powerful baron and populist champion of law and order.
On Friday, Immigration and Customs Enforcement told Mr. Arpaio to stop using the authority of the federal 287g program -- which deputizes local law enforcement to help federal agents target illegal immigrants -- as part of street sweeps in Phoenix that have primarily led to arrests of people who haven't committed any serious crimes. Arpaio refused as he headed a 12th major anti-immigration operation through the metro Phoenix county today.
"The Maricopa County Sheriff's Office is the only law-enforcement agency in the country to lose its authority to enforce federal immigration laws on the street under a revamped and controversial program that lets local and state agencies act as immigration officers," the Arizona Republic reported.
""You know what? They can take away anything they want. I'm still the elected sheriff," Sheriff Arpaio told Fox News' Glenn Beck this week. "I'm still going to enforce the state laws and I'm going to enforce the federal laws."
---