The White House's 'ironic' Mao moment? Glenn Beck doesn't get it.
You just knew the Anita Dunn-Glenn Beck feud would involve Socrates and Seinfeld, didn't you?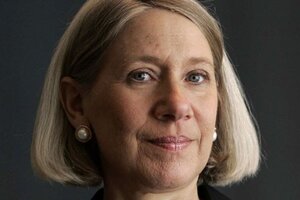 Susan Walsh/AP
A week after White House communications director Anita Dunn declared "war" on Fox News, Glenn Beck, the feisty libertarian Fox personality, is taking Ms. Dunn on personally over what can now officially be described as her "Mao moment."
On Thursday, Mr. Beck aired a high school commencement address from June where Ms. Dunn listed Mao -- responsible for the deaths of millions of Chinese during the Cultural Revolution -- as one of her "favorite political philosophers," alongside Mother Teresa of Calcutta.
Dunn, a long-time Washington strategist, surprised many by singling out Fox as a public relations arm of the Republican Party last weekend. She said on Friday that her Mao comments were obviously "ironic" and that she had lifted the reference from the late and legendary Republican strategist Lee Atwater.
Yes, a lot of this is personal between Fox and Dunn.
Yet perhaps we get a tiny bit of new insight into America's political divide from the Mao affair. Perhaps the standoff is less about left and right, socialists versus libertarians, and more about ironic speech versus direct speech.
---