Senate Democrats join Republicans in rejecting Medicare 'doc fix'
Thirteen Senate Democrats joined Republicans in rejecting a $245 billion 'doc fix' to prevent cuts in payments to Medicare doctors. Majority leader Harry Reid said the Senate will address the issue again after health reform.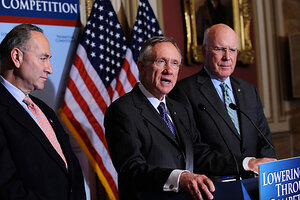 Susan Walsh/AP
Senate Democrats lost 13 of their own today on a bellwether vote to shift a $245 billion "fix" for doctors serving Medicare patients out of the larger healthcare debate.
The bid to permanently repeal a formula that annually cuts payments to doctors failed 47 to 53.
"It is unfortunate that Republicans have again chosen to put politics before the needs of the American people," said Senate majority leader Harry Reid, in a statement after the vote.
Republicans, including many who had in the past voted for the annual "doc fix," which prevents cuts in payments to Medicare doctors, unanimously opposed the bill. They called the bid to take the issue outside the health reform debate into a stand-alone bill a fiscal gimmick.
But the wake-up call was the number of Democrats who joined them – a signal that moderates will not back a healthcare plan that adds a dime to the federal deficit.
The Medicare Physician Fairness Act is a top priority of the American Medical Association (AMA), a key partner with the Obama White House in the bid to overhaul the healthcare system.
In a press conference on Tuesday, AMA president James Rohack denied that the bill was a quid pro quo for support for the bill. "We are focusing on trying to get this problem that predates healthcare reform resolved," he said.
---