What lessons Massachusetts holds for US healthcare reform
Healthcare reform came to Massachusetts in 2006. More residents now have insurance, but healthcare costs have not come down.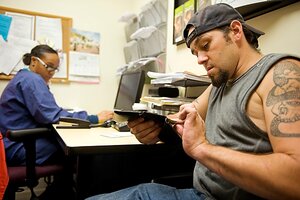 Sarah Beth Glicksteen/The Christian Science Monitor
A mandate on individuals to buy health insurance can work – just don't expect it to reduce the cost of care.
That, in a nutshell, may be the lesson from Massachusetts as Americans consider healthcare reform ideas backed by President Obama.
The message is significant, because Democratic proposals in Congress have big similarities to reforms that Massachusetts adopted in 2006.
Common elements include:
•A mandate on individuals to buy insurance.
•Subsidies to help lower-income people pay for it.
•Exemptions for people who don't qualify for subsidies and can't afford insurance.
•An "exchange" where people shop for state-approved policies.
The goal is to slash the number of people who are uninsured.
In the heat of national debate, the Bay State's experience has inspired Rorschach-like interpretations. Supporters see a model for the nation. Detractors say it's a model of failure, not for imitation.
No havoc due to individual mandate
Amid the din, however, health policy experts generally agree on some basic lessons:
First, a mandate for individuals to buy insurance can be imposed without causing havoc. Hospitals and individuals have adapted. Employers haven't dropped the health plans they sponsor.
Second, the mandate, while expanding coverage to many uninsured, doesn't solve the deeper problem of escalating healthcare costs.
"Cost control is clearly much more difficult to solve" than is expanding access to insurance, says Katherine Baicker, an economist at the Harvard School of Public Health in Boston.
---