Did Birmingham mayor bet city's future on a Wall Street scheme?
Birmingham Mayor Larry Langford has been charged with money laundering and bribery. No-bid bond financing schemes have led to billions of lost taxpayer dollars across the US.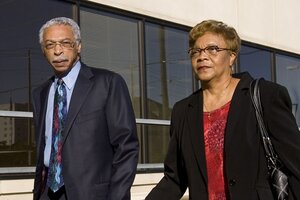 Butch Dill/AP
Mayor Larry Langford has a bold vision for Birmingham's future. But is he a bona fide leader -- or a con man, aided and abetted by Wall Street?
Now on trial in US Federal District Court in Tuscaloosa, Ala. on 60 counts of money laundering and bribery charges, Mr. Langford is at the center of a spectacular scandal where, prosecutors say, a popular mayor whose motto is "Do something!" gambled a city's future on a risky Wall Street scheme, all while taking bribes in the form of cash, Rolex watches, and designer clothes.
Langford's trial is sure to illuminate how a gung-ho investment atmosphere played into small-time municipal corruption only to explode into what could become the nation's largest-ever municipal bankruptcy, dwarfing the 1994 default of Orange County, Calif.
But behind the details of Langford's personal and political life lies a surprising fact: Across the US, billions of dollars have been lost in similarly risky municipal bond deals, leaving US taxpayers on the hook.
"Bringing justice where fraud has occurred is a very important component to bringing back a culture of trust on which financial markets operate, and that's why the Larry Langford trial is important," says Robert Brooks, an economist at the University of Alabama in Tuscaloosa. "If you find transactions being done [by elected officials] with an effort to be opaque ... there's good reason to wonder why."
---