Election 2009: Economic woes challenge incumbent mayors
Incumbent mayors are facing tougher-than-usual reelection bids due, in part, to a struggling national economy.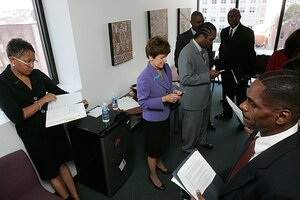 John Amis/AP
The lingering effects of the recession are bringing an unusual degree of uncertainty to mayoral races across the country.
Typically, incumbents enjoy a significant advantage over other candidates. But in many of the 603 cities with mayoral elections this year, national economic woes are dominating local agendas. Tight city budgets have heightened perennial campaign issues, such as crime, education, and transportation – and given challengers a boost in their bids to unseat incumbents.
Already, incumbents have fallen in Albuquerque, N.M., and Seattle, and even popular New York Mayor Michael Bloomberg is facing a tougher campaign than many experts had forecast. "It's tough sledding right now for incumbents because of unemployment," says Ed Cochran, executive director of the US Conference of Mayors, noting that the national unemployment rate is hovering just under 10 percent.
New York. Mayor Bloomberg, a former Republican who is now an independent, would seem to be a shoo-in. He has high approval ratings – 58 percent, according to a poll by the Marist Institute for Public Opinion in Poughkeepsie, N.Y. Moreover, he has outspent his Democratic opponent, comptroller William Thompson, by a ratio of at least 14 to 1.
---