Obama awards $3.4 billion in 'smart grid' grants
President Obama announced Tuesday $3.4 billion in stimulus funding to 'smart grid' projects aimed at promoting green power and reducing electricity bills and blackouts.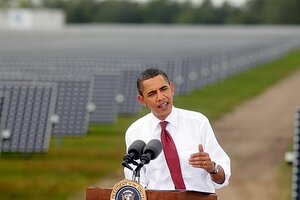 Gerald Herbert/AP
A major proposal of the Obama administration's national energy makeover has been to build a next-generation "smart" power grid that enables integration of more renewable energy and maximizes efficiency. Most stimulus funding has so far gone to fix roads and other infrastructure, but on Tuesday the smart grid began catching up.
President Obama announced the winners of $3.4 billion in stimulus funding for projects in 49 states, except Alaska, which did not apply for funds.
Just 100 utilities of more than 400 applicants won federal grants, which officials say will leverage more than $4.7 billion in matching private sector investment. These grants comprise the lion's share of the $4.5 billion stimulus money set aside for smart grid development, and is expected to create tens of thousands of new jobs.
The measure, announced by Mr. Obama at Florida Power and Light's (FPL) DeSoto Next Generation Solar Energy Center, may be the largest single investment in energy-grid modernization in US history. It funds a range of technologies intended to speed the nation's transition to a more efficient and reliable electric system that promotes savings and integrates renewable energy sources such as wind and solar.
"There's something big happening in America in terms of creating a clean-energy economy," Obama said, adding that more needs to be done.
"We have a very antiquated (electric grid) system in our country," Carol Browner, assistant to the president for energy and climate change, told reporters. "The current system is outdated, it's dilapidated."
---