Public likes public option for healthcare. Joe Lieberman doesn't.
Poll results tend to show that voters approve of the public option for healthcare. But senators like Joe Lieberman could vote the other way.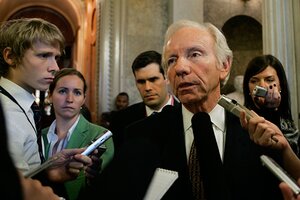 Susan Walsh/AP
The public generally supports the public option. This may be one big reason that Senate majority leader Harry Reid surprised many in Washington by including a proposal for government-run insurance – also known as the "public option" – in the Senate's version of healthcare reform legislation.
"All the national polls show a wide majority of Americans support the public option," Senator Reid said on Monday.
Whether the public option can make it to the Senate floor, however, remains an open question. On Tuesday, some key Senate moderates said they still opposed a government-run insurance plan. Sen. Joseph Lieberman (I) of Connecticut said he would support a GOP filibuster of a healthcare bill if it contained a public-option provision.
Poll results tend to back up Reid's assertion that voters approve the public option. In an Oct. 21 Gallup survey, for instance, 50 percent of respondents thought a healthcare bill should include a public, government-run insurance plan. Forty-six percent thought it should not.
But as that poll also shows, the margin in favor of the public option can be smaller than Reid asserted. Opinions on the topic are not strongly held and could be changed, some polling experts say.
"Whichever side – the proponents or opponents – gets their message to break through and become the real perception of Americans, that is who is going to win the public opinion on this topic, given how soft and malleable public opinion is," said Mollyann Brodie, director of public opinion at the Kaiser Family Foundation, at a seminar in Washington last Friday.
---