Executive pay: How much say should Obama 'czar' have?
High executive pay and bonuses are unseemly after taxpayer bailouts, many Democrats charge. But GOP lawmakers worry about federal 'pay czar' meddling in the workings of capitalism.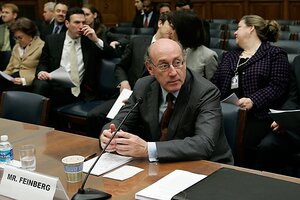 Susan Walsh/AP
The question of Wall Street pay has opened a partisan rift over the role of government in setting private-sector salaries.
When federal "pay czar" Kenneth Feinberg testified before Congress Wednesday, Democratic lawmakers focused on what they see as greed and irresponsibility by executives who continue to reap millions in pay after taxpayer bailouts. Republicans expressed worry about overreach by the government itself – warning about unintended consequences of a big-bonus backlash.
Given public concern about both the behavior of Wall Street and Washington policymakers, it's a debate that's unlikely to end with Mr. Feinberg's stoic answers.
Extraordinary measures
It's extraordinary, after all, for an appointee of the US Treasury to take direct control of compensation practices at some of America's largest private companies. Feinberg is a "special master" on pay at seven firms, ranging from AIG to Bank of America, because they are getting extraordinary government support.
---