No 'robust' public option in House healthcare reform bill
Speaker Nancy Pelosi unveiled the House's healthcare reform bill Thursday. She had to compromise with conservative Democrats on the public option in order to win their votes.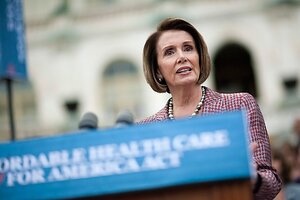 Joshua Roberts/Reuters
House Speaker Nancy Pelosi introduced a $894 billion healthcare bill Wednesday that appears to have enough Democratic support to pass.
The deal followed weeks of intense negotiation among strong factions within the Democratic majority, Democratic leaders, and the White House. In the end, compromises to limit the scope of a government run public option to compete with private insurers shifted momentum on the bill.
Lawmakers now have at least 72 hours to peruse the 1,991-page bill. It requires all Americans to obtain health insurance and adds some 36 million to the ranks of the insured. It expands Medicaid for the poor, and it offers subsidies to help middle-income Americans pay for private insurance.
The $894 billion cost – which is spread over 10 years – is paid for, in part, by what Speaker Pelosi calls "millionaire tax" – a tax on individuals with adjusted gross incomes more than $500,000, or families with more than $1 million.
No 'robust' public option
Pelosi and liberal Democrats had originally favored what they termed a "robust" public option. This would have paid hospitals and other healthcare providers at Medicare rates plus a 5 percent increase.
---