Turnout in governor's races crucial for Democrats, official says
Turnout of Obama voters at the New Jersey and Virginia governors' races next week will hold a clue to the 2010 midterms, said Rep. Chris Van Hollen at a Monitor breakfast.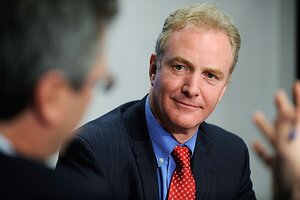 Jonathan Ernst/Reuters
Next Tuesday, follow the turnout. That's the word from Rep. Chris Van Hollen of Maryland, Democratic House campaign chief, as he heads into a tough 2010 election cycle.
The Nov. 3 governors' races in New Jersey and Virginia are being closely watched for clues as to how Republicans and Democrats might fare in midterm elections a year from now. Key to Democratic success will be whether the 2008 "Obama electorate" turns out next week.
The numbers will be down; midterms don't attract the crowds of a presidential contest. But if turnout among young and African American voters were to dip significantly as a proportion of turnout, "that could cause problems," Congressman Van Hollen told reporters Thursday at a Monitor breakfast.
"So what we're going to be looking at is intensity levels, energy levels, which translate into turnout," Van Hollen said. Those are "early warning signs on whether Democrats aren't just showing up to the polls."
The warning signs are already there in Virginia. A recent Washington Post poll showed that likely voters on Nov. 3 are just 12 percent African-American, compared with 20 percent in Virginia last November. Interest among young voters has dropped even more sharply. Last year, they represented 21 percent of the electorate. The Post poll shows them now at 8 percent of likely voters.
---