Maine's vote on gay marriage draws national attention
For the first time, voters in the US could approve same-sex marriage. In other parts of the country – and in Washington – the push is on to legalize gay marriage.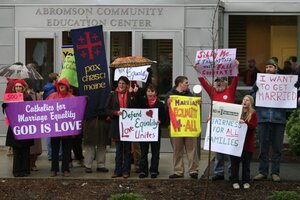 Robert F. Bukaty/AP
"As Maine goes, so goes the nation" is a political cliché long since out of use.
But with Tuesday's election there, both sides in the fierce debate over same-sex marriage are hoping the outcome not only favors them but sends a clear message to the rest of the United States.
In May, the Maine Legislature passed a law legalizing gay marriage, and after initially opposing it Gov. John Baldacci signed the measure. If approved, "Question 1" on Tuesday's ballot would overturn the new law.
If the measure wins at the polls, it would continue a string of about 30 states where voters have rejected gay marriage. If it fails, Maine would join the handful of states (Massachusetts, Connecticut, Vermont, and Iowa) where legislatures and courts -- not voters -- have made same-sex marriage legal.
"This is significant on the national level because this is the first time voters are weighing in on a law where marriage has already been defined for them," Jenny Tyree, a marriage analyst with the conservative lobbying group Focus on the Family Action, told the Bangor Daily News.
---