Tea Party Express jubilant as Scozzafava exits in NY-23
Scozzafava's departure is a blow to the establishment GOP. But the latest development in upstate New York's special congressional race also means 'outsiders' clearly are viable in US politics.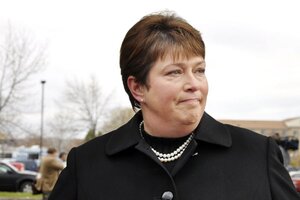 Heather Ainsworth/AP
After dramatically dropping behind in three-way polling, embattled New York Republican Dede Scozzafava jumped ship Saturday in the hotly-contested NY-23 congressional election scheduled for Tuesday.
That leaves the door wide open for Conservative Party candidate Doug Hoffman, supported by national Republican figures like Sarah Palin and Minnesota Gov. Tim Pawlenty, to take on Democrat challenger Bill Owens in a head-to-head special election in the historically Republican enclave.
Scozzafava "released" her endorsements on Saturday as she suspended her campaign, effectively dropping out. Pressure on her to bow out had increased as Mr. Hoffman quickly overtook her in the polls as national conservatives -- as well as out of town volunteers -- joined the fray. One fear was that Hoffman and Scozzafava would split the conservative vote, allowing a Democrat to take NY-23 for the first time since the 19th century.
More critically, Scozzafava's decision is a sure sign that disaffected conservatives, symbolized by this summer's national Tea Party protests and heated healthcare town halls, are surging across the US, forcing the Obama administration to rejigger election day expectations in key races in Virginia, New Jersey, and now New York.
---