At stake in Maine vote: a potential first for gay marriage
No state has ever approved gay marriage at the polls. Gay marriage advocates and opponents have poured into Maine in an effort to either break the streak or keep it intact Tuesday.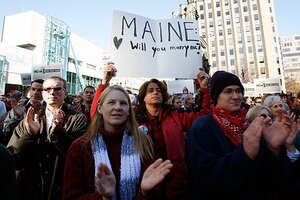 Pat Wellenbach/AP
Maine residents will have their say Tuesday in the nationwide debate over gay marriage. Voters there will decide whether or not to uphold a law that was signed in May allowing gay couples to legally wed. If they accept the measure, Maine would become to first state to approve gay marriage at the polls.
Public-opinion surveys show that voters remain evenly split on the eve of the referendum, which has turned Maine into the latest battleground in the fight over marriage.
Millions of dollars have been spent by both sides in high-profile campaigns that have attracted hundreds of out-of-state volunteers and millions of dollars in contributions for both sides of the issue.
"Maine is absolutely critical," says Paul Hogarth, who came to Maine from California to help organize Drive for Equality, a group that has attracted some 200 out-of-state volunteers to canvass in favor of the state's gay marriage law.
"In many ways, the opposition is taking this very seriously because they view this as an opportunity to blunt our momentum," says Mr. Hogarth.
Split momentum
Since Massachusetts became the first state to legalize gay marriage in 2004, Connecticut, Vermont, and Iowa have followed suit.
---