Democrats fear triple blow on Election Day
The Democrats could lose all 'Big Three' races on Election Day: the governor's races in Virginia and New Jersey and the special election in New York for a House seat.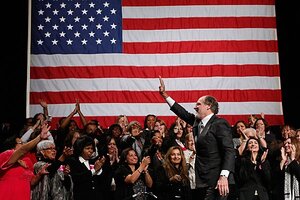 Jim Young/Reuters
Democrats are looking Tuesday's few elections straight in the eye and seeing potential for embarrassment.
In Virginia, Democrat Creigh Deeds is praying for a miracle as polls show Republican Bob McDonnell running away with the governor's race. In New Jersey, polls still show a dead heat in the governor's race, but Republican Chris Christie is showing signs of momentum against incumbent Democrat Jon Corzine.
And in New York's 23rd congressional district, the departure of the Republican from the race means that the Conservative has the right side of the electorate all to himself – and a head-to-head matchup against the Democrat in a Republican-leaning district. The few polls taken since the Republican dropped out show Conservative Doug Hoffman ahead.
NY-23 could wind up being a boon to Democrats – but in the short term, if the Democrat loses, it's a loss. The Democrats' only certain bright spot on Tuesday is that they are set to win the special election to fill the House seat for California's 10th District. But no one expected otherwise, and so the Democrats get no bounce.
---