One year after his election, what has Obama achieved?
Obama got off to a quick start. But almost one year after winning the presidency, his deeds are at risk of paling next to his aspirations.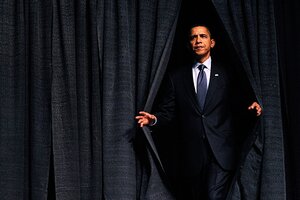 Susan Walsh/AP
When Barack Obama campaigned for president, the first-term senator from Illinois set a high bar for himself. Making history as the first African-American to occupy the Oval Office almost seemed beside the point. In Reaganesque fashion, he wanted to transform America.
Then the financial markets collapsed. The economy teetered on the edge. By the time Mr. Obama was elected, almost one year ago, an anxious nation was ready for answers. Could Washington stave off a full-fledged depression? Though Obama would not take office for 2-1/2 months, Americans hung on his words as if he were already president.
Fast-forward to today, and President Obama faces debate about what exactly he has achieved since taking office. "Saturday Night Live" lampooned him as having checked no boxes on his "to do" list. The surprise announcement a week later that he had won the Nobel Peace Prize, an award he himself said he did not deserve, only enhanced the notion that Obama was more about hope and hype than substance.
Some academics defend him.
"He's had a good first year," says Ted Widmer, a presidential historian at Brown University in Providence, R.I., and a former speechwriter for President Bill Clinton. "Two of his biggest accomplishments are easy to overlook, but they were both important. He kept the financial crisis from becoming worse. And he vastly improved the way the rest of the world thinks about America."
---
Follow Stories Like This
Get the Monitor stories you care about delivered to your inbox.