Atlanta mayoral race 2009: Why a white woman might win
Atlanta has elected only African-American mayors since 1973. But Mary Norwood – the only white candidate in the Atlanta mayoral race – was leading in public opinion polls.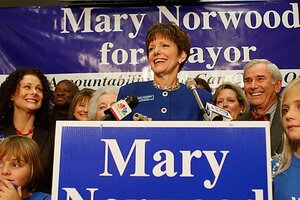 John Bazemore/AP
On the eve of Election Day 2009, polls showed that one-third of black voters here were ready to vote for Mary Norwood – a blue-eyed, white suburbanite – in the Atlanta mayoral race
For a city that has not had a white mayor since 1973 and sees itself as the iconic post-civil rights epicenter of African-American politics, the campaign has been a shock to the system.
To some observers, it suggests that Ms. Norwood simply has used the levers of racial politics more effectively than her five African-American opponents. To others, though, it points to a generational shift toward political color-blindness – most prominently seen in last year's presidential election but now influencing voters even in this bastion of the Deep South.
"It's disturbing to some that you would have this change in a city where African-Americans have had a hold for over three decades – and it goes beyond politics," says Earl Ofari Hutchinson, author of "How Obama Won." "But the question we come back to is this: With the election of President Obama, how much does race really matter anymore in terms of politics? We've had a breakthrough at the national level, and now we're beginning to see it in municipal elections."
What has happened?
---