Election Day November 2009: five things to watch
Look at the margins of victory, among other things, as the returns for Election Day November 2009 come in.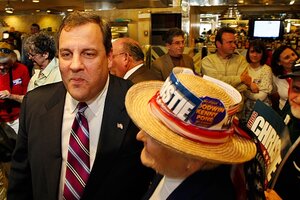 Mel Evans/AP
In an off-year election, there are few races to analyze in November. And there's a danger of over-interpretation on Election Day 2009. But for political junkies, any election, no matter how small or regional, is catnip. We can't help ourselves. So while we wait for the returns to come in, here are a few points to ponder:
1. Who turns out
One year ago, Barack Obama won the presidency on a wave of support from young voters, minorities, and independents. A big question has been whether that enthusiasm was Obama-specific, or whether the Democrats would reap benefits in subsequent elections. So far, Democrats have cause for worry. In Virginia, which Mr. Obama turned blue in a presidential election for the first time since 1964, a Washington Post/ABC News poll showed last month that only 12 percent of likely voters are black, compared with 20 percent last November. Among young voters, the drop-off is worse: Eight percent of likely voters today are young, versus 21 percent a year ago.
In New Jersey, a solidly Democratic state with an unpopular Democratic governor, the same holds true: For Jon Corzine to win reelection, the Democratic base must turn out.
2. How will the results affect healthcare reform?
It depends. For nervous Democratic moderates in Congress, if the election ends in a wash – for example, the Republican wins the governor's race in Virginia and the Democrat wins in New Jersey – then they can relax a bit.
"But if there's a Republican sweep, then the task of getting a healthcare bill through becomes tougher," says Norman Ornstein, a political analyst at the American Enterprise Institute in Washington.
---