Elections today: How mayor races stack up
Elections today: Incumbents such as New York's Mayor Bloomberg have spent big to ensure they keep their seats on Election Day.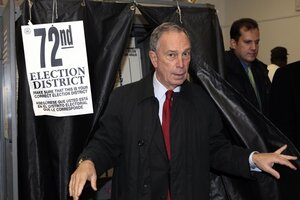 RICHARD DREW/AP
If there's a common thread to the mayor races in major cities across the US, it's that incumbents are facing more difficult races than usual. Most are spending heavily to hold their ground, setting spending records in Boston and New York.
Still, pollsters across the country are reporting high numbers of undecided voters, and turnout is expected to be low, typical of local races in off-election years.
New York
Mayor Michael Bloomberg is expected to be successful in his bid for a third term, but challenger Bill Thompson – the city's first African-American comptroller – isn't going too quietly. A new poll of likely voters released Monday by Quinnipiac University found Mr. Thompson had closed his deficit by six percentage points from the previous week prior.
Still, polls show 50 percent of likely voters say they'll vote for Mr. Bloomberg, compared with Mr. Thompson's 38 percent. Ten percent of voters were undecided.
Bloomberg has spent an estimated $100 million from his own pocket, according to the New York Times – a record in personal campaign spending. By contrast, Thompson had only spent about $6 million.
Boston
---