Election results show Obama's political coalition unraveling
Election results show defection of independents, plus the low turnout among young and black voters, hurting Democrats.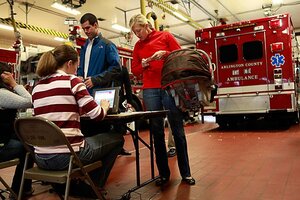 Jacquelyn Martin/AP
The political coalition that powered Barack Obama's historic victory in 2008 splintered apart in Tuesday's off-year elections. If his political team can't figure out how to pull it back together, 2010 could be a big year for the GOP.
Independent voters – key supporters for Obama last year – broke for the Republican candidate in both the New Jersey and Virginian gubernatorial elections. Meanwhile, many committed Democrats just stayed home, particularly in Virginia.
"The key lesson for Democrats is that the Obama glow is gone," said Larry Sabato, director of the University of Virginia's Center for Politics.
Voters on Tuesday appeared to be worried about the state of the economy and the implications of the skyrocketing federal deficit. Overall, the results should be a wake-up call for the White House, according to Allan Lichtman, professor of political science at American University.
President Obama should go off to Camp David for a few days, without advisers, and think through how he wants to respond to this setback, said Lichtman.
"Obama needs to take charge of the national debate, on healthcare and other big issues," he said.
It's easy to overinterpret the results of a handful of key races in an odd-numbered election year, of course. Local issues were a major factor in both of Tuesday's big races.
---