Schools sprinting to win Obama's Race to the Top billions
In speech Wednesday, Obama touts his $4.35 billion bid to reshape education in America. Schools nationwide are eager to compete for Race to the Top funds.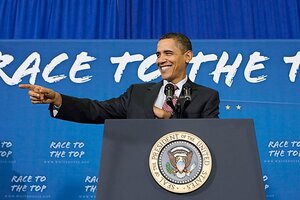 Larry Downing/Reuters
President Obama touted Race to the Top to the nation in a speech in Madison, Wis., Wednesday. But schools already know it well.
Mr. Obama's $4.35 billion in Race to the Top funds have already spurred significant education reform in a number of states – even though the final guidelines for the program haven't yet been announced, no states have yet applied, and the first grants won't be made until at least April.
The program offers competitive grants to states that have policies aligned with certain federal priorities. These priorities include a willingness to evaluate teachers using student achievement, an openness to charter schools, and a commitment to building long-term data systems to track student performance.
Now, numerous states are revisiting laws that would disqualify them from the grants or make their applications less attractive.
"The administration has done a good job of having a lot of states make a long-odds bet that they're going to win Race to the Top funds, so they've shaped their behavior a lot in advance of a single dollar being awarded," says Russ Whitehurst, director of the Brown Center on Education Policy and a senior fellow at the Brookings Institution. "Most of what the administration is going to get [in terms of reform] it will get before the competition is actually completed."
Changes coming
Obama highlighted these changes Wednesday.
• Some states, including California, Indiana, and Wisconsin are taking steps to remove "firewall" laws that prohibit student achievement from being used to grade teacher performance.
---