Senate's holiday gift to workers: extended unemployment benefits
The US Senate voted Wednesday to extend unemployment benefits for workers set to lose them by the end of the year. It wanted to be seen as helping working families heading into the holiday season.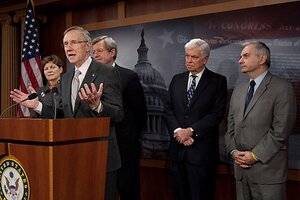 Harry Hamburg/AP
After nearly a month of gridlock, the Senate voted unanimously to extend unemployment benefits for some 1.3 million jobless Americans expected to lose benefits by the end of the year.
If, as expected, the House adopts the Senate version of the bill, it means workers in all states will be eligible for an additional 14 weeks of federal unemployment benefits. In states with unemployment rates higher than 8.5 percent, workers will be able to extend their federal unemployment benefits a further six weeks.
The House version of the bill, passed in September, provided an additional 13 weeks to workers in high-unemployment states.
With the unemployment rate at 9.8 percent – and October's unemployment numbers due out Friday – lawmakers wanted to go on the record with a vote that would help families pay their bills, especially heading into holiday season.
The package also extends an $8,000 first-time home-buyer tax credit, which was due to expire at the end of November, and creates a new $6,500 tax credit for some current homeowners who buy a new home by April 30, 2010.
"Extending unemployment insurance benefits will help Connecticut families make ends meet in a tough economy. And thousands more middle class Connecticut residents may now be eligible to take advantage of the successful home-buyer's tax credit," said Sen. Christopher Dodd (D) of Connecticut, a co-sponsor of the home-buyer tax credit, who faces a tough reelection campaign in 2010.
---